Get to Know Kurt Sheline, One of GCV's 2020 Rising Stars
---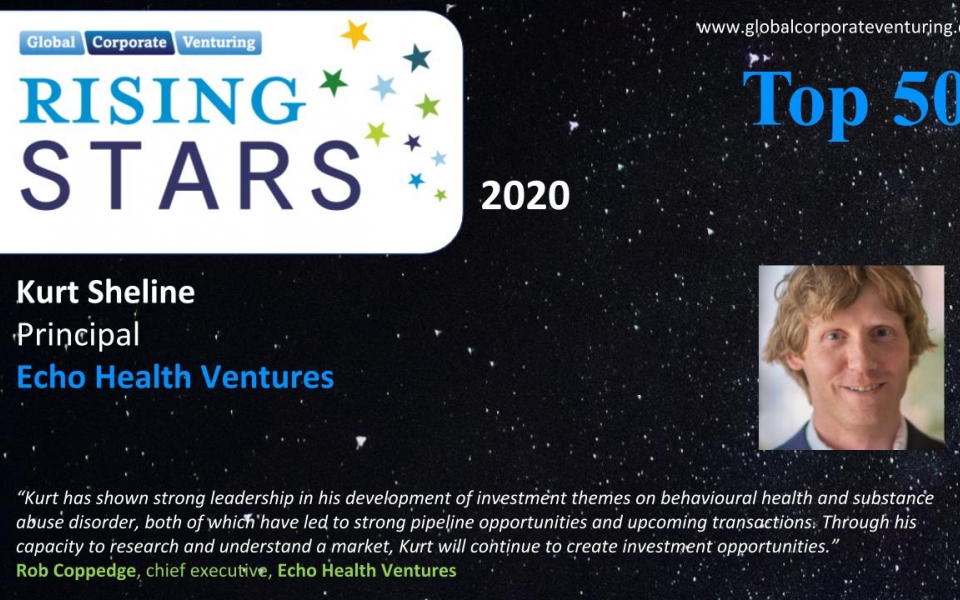 Echo Health Ventures Principal Kurt Sheline has been recognized as Global Corporate Venturing's Rising Stars as part of their 2020 awards. In this post, Kurt shares his background, his thoughts on where corporate venture capital is heading, and how he spends his free time.
What's your background?
I always knew I wanted to work in health care, initially believing I would end up in a clinically-focused career. In college, I also began developing an interest in business and economics in addition to completing pre-med coursework. I ended up embarking on a path that melded these two interests, working in health care investment banking and the PE/VC arenas before joining Echo about three years ago.
What attracted you to CVC?
The immense potential for impact. Health care in particular is an industry in which friction and resistance are the norm, and concurrently represent both an impediment and a huge opportunity. I knew I wanted to help accelerate scaling innovation in the health care industry and viewed CVC as an extremely valuable tool in helping to make that happen. I was lucky to get the opportunity to join such a unique platform in the industry to do just that.
What are some of the biggest challenges the industry faces?
Complexity. The industry is so complex and increasingly hyper-local, we must be very attuned to the intricacies of individual markets, and up to date on recent developments and market entrants to effectively underwrite potential investments. In addition to this, we are living and operating in an economic environment that has made appropriate risk-adjusted returns difficult to find.
What excites you about where the industry is headed?
There is so much innovation happening in the space, and much to be excited about! From novel business and care delivery models that do right by doing good, to scientific breakthroughs in genomics, precision medicine, and immuno-oncology that have shown the unthinkable to be possible, I feel lucky to be in the position to play a small part in helping to shape where the industry is headed.
What do you do in your spare time?
Trying to exercise in the short time I do have to myself. Most of my time is spent caught between temper tantrums, spilt milk, diapers, and stepping on toys littered throughout the house!