Global Corporate Venturing honors Echo's Kurt Sheline and Omair Ahmed
---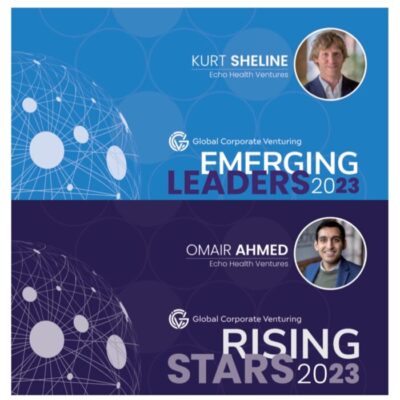 Global Corporate Venturing this week honored two members of the Echo Health Ventures Strategic Investment team: Echo Partner Kurt Sheline and Echo Principal Omair Ahmed.
Sheline was recognized as a 2023 Emerging Leader, described as "50 investors who are making their mark in the industry, if not already heads of unit, then on track to take on the mantle."
Ahmed was honored as a 2023 Rising Star, described as "50 people who are rising fast in the world of corporate investment…the top 2% of the profession and the future stars to watch."
Sheline told GCV in his award profile that working in health care investing is an rewarding way to support innovation.
"The secret sauce of corporate venture, and why I'm so attracted to it, is having insight into how existing stakeholders are thinking about problems and thinking about solutions to those problems, and being in a unique position to support those ideas." 
Ahmed said in his profile that when it comes to evaluating investments, he's guided by data.
"It's easy to have a great and innovative mission, but if you don't generate data that proves you're solving a problem, you lose credibility. The data is critical to success at the end of the day."