Echo Health Ventures Celebrates Its 10th Investment in 2019
---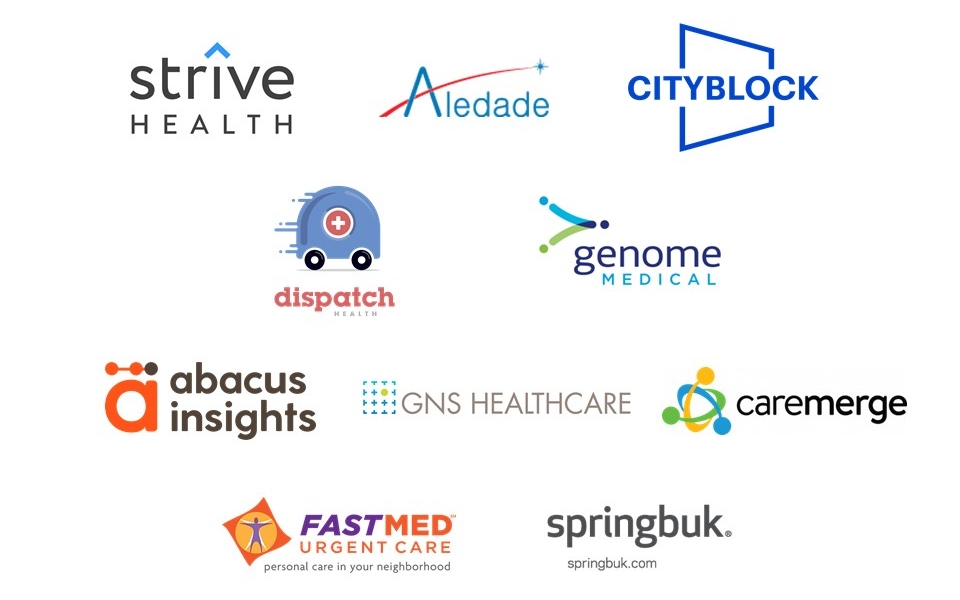 For Echo Health Ventures, 2019 is proving to be a year of significant growth. Within the first three quarters of this year, Echo closed ten new and follow-on investments, supported several new financing rounds and exits for existing portfolio companies, and fostered strong relationships between our parent companies and portfolio companies.
Class of 2019
Kicking off the year, Echo invested in Strive Health, a new company focused on providing early identification and engagement, coordinated care, and expanded treatment options to individuals with kidney disease.
Also in January, Echo invested in Aledade, which partners with independent medical practices, health centers and clinics to build and lead ACOs anchored in primary care. The company offers a comprehensive range of capabilities that include data analytics, user-friendly guided workflows, regulatory expertise, strong payer relationships, and local, hands-on support from attentive experts.
In March, Cityblock Health joined the Echo portfolio. Cityblock is an at-risk primary care provider focused on low-income, dense urban communities with complex, chronic and frail populations. Cityblock partners with payers to deploy a clinical population health services model that is powered by a proprietary health technology platform and engages with patients both in the clinic and out in the community.
In May, Echo led a growth financing round in Dispatch Health. Dispatch delivers on-demand health care to patients directly in the comfort of their own home, helping consumers with multiple chronic conditions who often struggle with access to complex care.
We closed May with an investment in Genome Medical. Genome Medical is a nationwide tele-genomics practice focused on giving individuals, providers, health plans, labs, and employers seamless genetic expertise, navigation support tools, and a national care delivery platform. Echo has proactively focused in the precision health sector due to rising demands in an emerging market, particularly for independent genetic counseling by geneticists, trained MDs, and genetic counselors.
Breaking the Digital Health IPO Drought
2019 also brought the first initial public offerings (IPOs) from Echo's portfolio. Both Phreesia and Livongo began publicly trading this summer, breaking a three-year drought of digital health IPOs.
Phreesia is an innovative SaaS platform that gives health care organizations a suite of applications to manage the patient intake process. Phreesia raised $167 million in its offering. Livongo offers a whole person platform for chronic condition management, including diabetes, hypertension, weight management, pre-diabetes, and behavioral health. Livongo raised $355 million in its IPO.
These offerings are important milestones for each company and validate their respective missions and our parents' support for each.
Doubling Down on Investments
Echo is also celebrating important follow-on investments in portfolio companies that continue to inspire and outperform:
Abacus Insights, a data management platform that establishes connections to enable the ingestion, normalization, and linkage of health plan, provider, and consumer / socio-economic data sources.
GNS Healthcare, artificial intelligence technology that transforms data streams to precisely match therapeutics and enables personalized procedure and care management interventions to individuals.
Springbuk, employer-facing health intelligence platform to identify health savings opportunities within an employer population.
FastMed, independent urgent care company providing quality, personal care in more than 100 locations across Arizona, North Carolina, and Texas.
CareMerge, communication and care coordination platform that helps forge meaningful connections among senior care providers, payers, families and seniors.
Growth
Echo is continuing to evolve our team composition and organizational structure to support strong relationships with our parent companies and improve our ability to support their strategies. It's been a milestone year for Echo's expansion, with 18 percent team growth and the opening of our Boston office, led by new partner Jessica Zeaske. Additional Echo hires include Karim Botros to lead Echo Health Advisors and Jon Eide as COO. Announcements on all hires can be found in our newsroom.
As we expand our set of non-investment services, we're excited to announce new offerings to support our portfolio and deepen the symbiotic relationships with parent companies. With one more quarter, we're excited to finish off the year with a bang.